MRWA Names LB Water "Associate Member of the Year."
May 09, 2012
---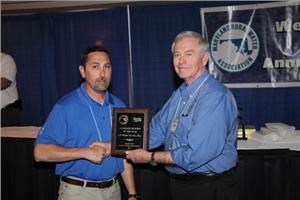 LB Water has been recognized by the MRWA (Maryland Rural Water Association) as the "Associate Member of the Year," for their support and service to the rural water association and the water industry in the state of Maryland.
The MRWA mission is to improve the quality of life in the rural and small municipal communities of Maryland in regards to the security, safety, and availability of affordable drinking water while ensuring the proper treatment of wastewater and the protection of the environment. The MRWA's services are provided free of charge and most of their systems service populations of less than 3,000, of which 500 have been identified in Maryland.
Nominees must have demonstrated a commitment to goals, programs, activities or services of Maryland Rural Water in some fashion through either financial, program, legislative, regulatory, or training support. Nominees for the award must not be directly employed by a water or wastewater system and must be a representative of an agency not directly involved in the actual day-to-day operation or management of a water or wastewater system.
In the words of Melanie Provenza, Executive Assistant at MRWA, "LB has been an outstanding sponsor of MRWA for several years, and this past year also taught several classes for the association at various locations throughout the state. This is our small way of saying thank you for all you do to support MRWA!"
The LB Water associates who made this award and recognition possible includes the Frederick, Md. location under the leadership of Shawn Pulford, the meter team led by Bradd Everly, Mitch Franks, Ed Denver, and Mike DiBattista. The LB Pennsylvania teams in Chambersburg and Ebensburg servicing the western counties of Maryland were also instrumental in receiving this award. Teaming with LB Fredrick these locations created a seamless sales, support, and service effort by LB Water from the ocean, through the bay, and to the mountains in the State of Maryland.
LB Water is a 100% employee owned company dedicated as a " Value Added Distributor" to the people and companies building the U.S. Mid Atlantic region's water infrastructure. Founded in 1970 in Selinsgrove, PA, by Lehman B. Mengel, the company now employs nearly one hundred and fifty-five people at eight locations in Pennsylvania, Virginia, and Maryland, and was voted one of 2012's top 100 places to work in Pennsylvania.