Water Technology "Speed Training" Program Connects LB Water Customers with Industry Vendors
March 26, 2015
---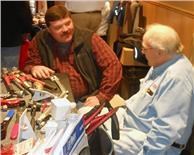 PITTSBURGH, Pa – Using a format not unlike that found in "speed dating" scenarios, Selinsgrove, Pa.-based LB Water hosted a Water Technology Speed Training program on March 26 in Gibsonia that allowed groups of the company's customers and invited guests to have "one on one" time with waterworks industry professionals.
Part of the company's fifth annual MARCH2O Madness WaterWorks Seminar activities, the event offered the opportunity for 102 customers and guests to rotate through 18 minute training with 9 different LB Water vendor-partners representing water-metering, water-infrastructure, sanitary sewer, stormwater-managment, and environmental-erosion and stabilization products.
Following the training sessions a detailed question and answer period further discussed the products and services offered by LB Water and its vendor-partners.
"At LB Water, we believe it's beneficial for our customers to have the opportunity to interact directly with many of the vendors who manufacture the products we distribute," said Marketing Manager Ben Reichley. "We're pleased to have been able to offer our customers this value-added experience to learn more about the waterworks-infrastructure products they've purchased or may be interested in purchasing in the future. It also provides our vendors with additional opportunities to hear directly from customers."
LB Water is a value-added distributor of waterworks-infrastructure products for the Mid-Atlantic region, including water-metering technologies, water infrastructure, sanitary sewers, storm sewers, and environmental—erosion/stabilization. It is a 100-percent, employee-owned organization that was voted among the Top 100 Places to Work in Pennsylvania for two consecutive years. Founded in 1970 by Lehman B. Mengel, the company employs 185 people at eight locations in Pennsylvania, Maryland, and Virginia.