Water Technology Training Program Highlights Leak-Detection, Metering
As Much as 50 Percent of Municipal Water is Lost through Undetected Leaks.
March 20, 2015
---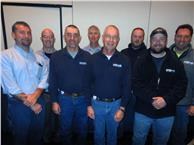 STATE COLLEGE, Pa – Knowing that leak-detection systems have discovered that as much as 80 percent of the water intended for delivery through a city or municipal water system ends up being wasted as a result of previously undetected leaks, Selinsgrove, Pa.-based LB Water hosted a Water Technology Training Program for its water-infrastructure customers on March 20 at the Penn Stater Conference Center.
Part of the company's fifth, annual MARCH2O Madness WaterWorks Seminar activities, and attended by 65 customers, the training featured case studies of water systems, including the State College Water Authority's meter-testing program, and the Williamsport Municipal Water Authority's leak-detection program and meter/radioread programs. The event also included a detailed question and answer session with representatives from water-metering-technology vendor Sensus, leak-detection vendor Fluid Conservation Systems, and LB Water representatives.
"At LB Water, we address water conservation and reducing water loss with the latest technology and techniques in leak-detection and metering products and programs," said Marketing Manager Ben Reichley. "We strive to provide value-added services and support to our customer base, and are pleased to offer this format of case studies and product demonstrations. Over the years this has been an excellent format for our vendor partners, customers and us at LB Water to discuss real world situations, best practices and successes, in water conservation and water loss," added Reichley.
LB Water is a value-added distributor of waterworks-infrastructure products for the Mid-Atlantic region, including water-metering technologies, water infrastructure, sanitary sewers, storm sewers, and environmental—erosion/stabilization. It is a 100-percent, employee-owned organization that was voted among the Top 100 Places to Work in Pennsylvania for two consecutive years. Founded in 1970 by Lehman B. Mengel, the company employs 185 people at eight locations in Pennsylvania, Maryland, and Virginia.