Going the Extra Mile
PA Waterworks Distributor Goes the Extra Mile for Ohio Port Authority
June 19, 2018
---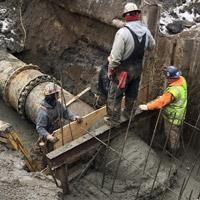 SELINSGROVE, Pa. – When officials at the Ashtabula County Port Authority in northeast Ohio discovered on New Year's Eve 2017 that they had a leak in a 36" cast-iron water main that provides cooling and chiller lines for a nearby industrial park, they had no way of knowing what it would take to fix the broken line quickly. First, they called Ashtabula-based Union Industrial Contractors, Inc. for help.
"On Sunday, December 31, we were called for an emergency water leak repair at the former FirstEnergy Plant C, an Ashtabula Port Authority-owned plant along Lake Road that supplies millions of gallons of raw water daily to area industries," said Ryan Cochran, president of Union Industrial Contractors. "The repair was to fix a catastrophic break on a 36" clean-in-place water line that was buried about 30 feet underground. The rupture measured six feet long and two feet wide."
The excavator and bridge contractor reached out to its usual waterworks vendors in search of the materials it needed to perform the repair. Unfortunately, securing two new sections of 36" class 53 ductile-iron pipe, a 36" x 45" mechanical-joint elbow fitting, two mechanical-joint long-pattern sleeves and six 36" Megalug® mechanical-joint restraints in time to perform the repair by the client's January 4 goal didn't seem feasible. The soonest one of the company's regular vendors could deliver the materials to the customer's job site was January 9.
On Tuesday, January 2, Cochran called LB Water. Jim Haworth of the company's Stoneboro facility took the call.
"I told him, 'No problem. We'll have all your materials there on Thursday'," said Haworth. "And this is where LB Water's commitment to customer support kicked into high gear."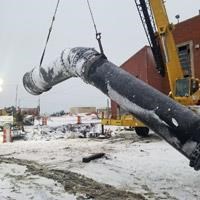 Haworth said it is LB Water's commitment to provide superior customer support and maintain a deep inventory of diverse parts – as well as the company's close relationships with its Mid-Atlantic customers – that combined forces to help Union Industrial Contractors meet the water authority's tight deadline.
"We had only two days to get this material to the job site," said Haworth. "Our Stoneboro Manager, Tyler Novak, contacted no fewer than five other LB Water locations, and we even enlisted the help of one of our key customers to make it happen."
"Our crews worked around the clock to repair the line," said Cochran. "And LB Water worked around the clock to get us the pipe and fittings we needed to repair the leak. They gathered the materials and delivered them to the job site by January 4 – within two days of our original discussion. They even provided on-site advice with some of the materials. Due to the complexity of the project and condition of the old system components, we discovered that we needed a way to restrain the existing clean-in-place piping. So, on Sunday, January 7, LB Water delivered additional materials to make the appropriate connections. On a Sunday!"
"The fact that LB Water was able to meet the customer's original deadline — when other waterworks vendors could not — demonstrates just how committed we are to supplying the materials our customers need, whenever and wherever they need them," said Haworth. "We not only gained a new customer in Union Industrial Contractors, but we also earned the respect of Aqua Ohio, the Ashtabula Port Authority, and the City and County of Ashtabula," said Haworth.