Fusible HDPE Pipe
High Density Polyethylene up to 63" Diameter

High-density polyethylene (HDPE) pipe has a variety of unique properties, including a high strength-to-density ratio, which makes it an ideal solution for a variety of applications.
HDPE pipe has a smooth interior resulting in enhanced flow co-efficiency and a lower tendency for turbulence.
The flexibility of HDPE pipe may reduce the number of fittings required for the project; that combined with its durability and resistance to corrosion and chemicals makes it a long-term, cost-saving pipe system.
HDPE Fusing Equipment - Rentals and Expert Training by LB Water
In addition to offering rental McElroy fusion equipment, we also offer trainings so that your staff can benefit from our expertise and master this equipment. The type of fusing equipment you'll need will depend on the application, pipe diameter and site requirements.
26 machines for rent
2 track machines for up to 18"
3 machines to fuse though 8"
1 machine to fuse through 6"
8 machines to fuse through 4"
10 electro-fusion machines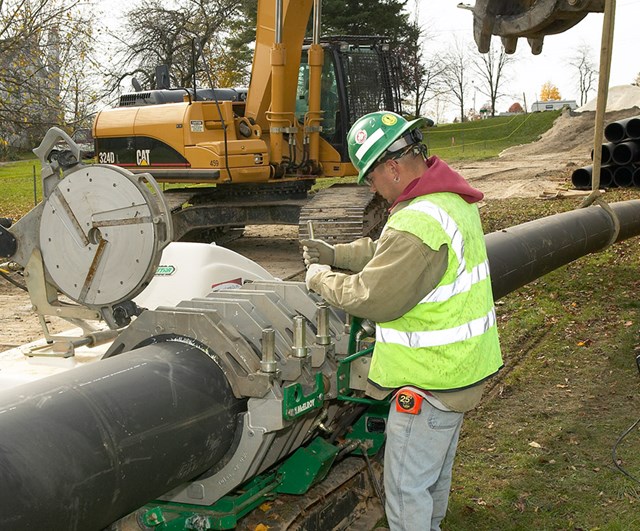 Fusible HDPE Pipe Benefits
Withstands surge pressure
Leak free
Lightweight
Flexible
Durable
Chemical resistant
Reduces water hammer
Corrosion resistant
Lowest fluid flow resistance
Earthquake resistant
Long-term savings
Easy installation
(20', 40', 50' straight lengths, 100' – 1,000' coils)
Specifications
Fusible HDPE Solid: 1" – 63" diameter
Seamless pipe runs when using fusing technology
Delivered to your specification
Applications
Water
Sewer
Reclaimed
Rehabilitation
Irrigation
Municipal
Industrial
Energy
Geothermal
Slip Lining
Drainage
Conduits
Natural Gas
Fusible HDPE Pipe Products
Fusible HDPE Solid Wall Pipe
Coupling and Fittings
Fusing Machines
HDPE Pipe Resources and Product Information
Our Brands