Homegrown Hero Award Presented to John Brutz
November 03, 2022
---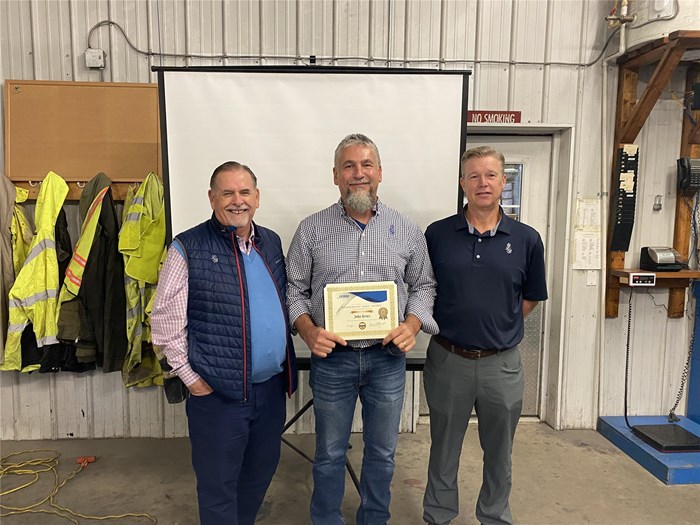 On Wednesday, November 2, 2022, the Lehman B. Mengel "Homegrown Hero Award" was presented to John Brutz, General Manager of 540 Technologies, for the heroic and lifesaving measures he took to save a mother and son on Thursday, October 13, 2022.
Returning home from servicing a customer in Pittsburgh, PA, John entered the Pennsylvania Turnpike at the New Stanton on-ramp when he saw a car directly in the center lane of traffic crushed, fluids leaking on the road, and all airbags deployed. He immediately pulled his vehicle over and dialed 9-1-1 while all other vehicles sped around the accident.
John ran into oncoming traffic to the vehicle and opened the door to find a woman with her college-aged son injured and trapped inside. He asked the woman if she was critically injured and if she would allow him to help her. She was shaking, and her arm was covered in blood, but she graciously accepted John's help.
In the meantime, a young female volunteer firefighter named Miranda pulled over and helped direct traffic around the accident. John gave Miranda his 540 Technologies DOT safety vest to wear and proceeded to drag an oversized PennDOT safety cone onto the road to help other drivers identify the accident, hoping to avoid a dangerous pile-up situation.
After removing the woman from her vehicle, John carried her to safety, offering her his jacket to keep her warm until first responders arrived. He then went back into traffic to assist her son to safety. As this happened, a tractor-trailer recognized the danger and pulled his rig horizontally across two lanes to block oncoming traffic, preventing further injuries.
John learned that the woman had hit a deer that had jumped the barrier, deploying all airbags and trapping her and her son inside the car. He stayed with the two until state police and other first responders arrived, even assisting in moving the car off the road.
John said the woman and her son will recover with only minor injuries, but he believes they would've been killed had he not stopped. When commended for his heroic actions, John simply responded, "I'm not a hero, I just did what was right." John displayed exemplary, selfless, altruistic behavior in the face of danger that crucially contributes to the betterment of society, therefore earning the Lehman B. Mengel "Homegrown Hero Award."
LB Water congratulates John on earning such a high honor, but more importantly, we thank him for putting his life on the line to save another's.