LB Water Expands Inventory of High-Density Polyethylene (HDPE) Products
April 23, 2018
---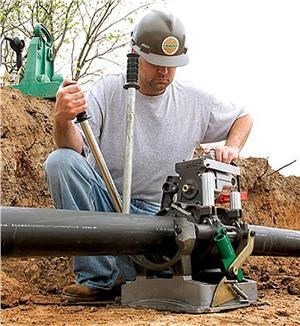 HDPE fusible pipe has a variety of unique properties that make it an ideal solution for waterworks infrastructure.
LB Water has completed an expansion at its Ebensburg location to accommodate an extensive increase in HDPE Fusible Pipe and Fittings. The additional two acres will address the requests from customers to make a bigger commitment and quickly service their HDPE needs in a timely manner.
LB Water's delivery fleet of more than 40 trucks have been upgraded to transport the 40- and 50- foot lengths of HDPE stick pipe and the 100- to 500-foot HDPE coiled pipe.
The expansion of inventory is supplemented by LB Water's fleet of HDPE fusion equipment (butt-fusion & electro-fusion) for rent or purchase. LB's fleet of 26 machines offer options of track and wheeled machines to handle 1" - 18" including 10 electro-fusion machines. The larger machines are rented with an option of an enclosed cargo trailers with ramps for customer convenience. LB Water also offers fusion equipment training.
"The combination of available inventory and fusion equipment enhances our capabilities to consistently serve the demands of our customers," said Shawn Pulford, chief executive officer of LB Water. "Remember, at LB Water we make water work, now we make HDPE work!"
HDPE fusible products have a variety of unique properties that make it an ideal solution for a variety of uses. Because of its flexibility, the number of fittings needed is often reduced. Recent technical advances have shown using HDPE products in waterworks projects reduces installation costs, improves flow capacity, and increases corrosion resistance to water and soils.